Since 1982, the Colorado Organization for Victim Assistance (COVA) has been committed to fairness and healing for crime victims, their families and communities through leadership, education, and advocacy.  By operating in an inclusive and compassionate manner, COVA creates solutions and positive change.

COVA is a 501(c)(3) nonprofit statewide membership organization, with over 800 members throughout Colorado. Our membership includes personnel from the criminal justice system, nonprofit organizations providing assistance to victims of crime, survivors of crime, concerned citizens, and members of allied professions (human services, education, mental health, clergy, etc.).

COVA's vision is to be recognized as a national leader in building a collaborative environment where crime victims are given the opportunity to heal and restore balance to their lives.
What COVA is involved in:
Providing training and technical assistance on the Colorado Victims' Rights Act;
Training to assist member agencies to provide quality services;
Publishing standard mail and email Newsletters;
Publishing an online statewide directory of victim service providers;
Monitoring state & federal legislation affecting victims of crime;
Administering a Victim Services Intern Program to enhance the delivery of services to underserved/underrepresented populations in the Denver Metropolitan and Northern Front Range Areas;
Sponsoring the Annual COVA Conference for victim service providers and other interested parties;
Managing a Human Trafficking Program, which provides intensive case management for victims of sex and labor trafficking statewide;
Planning, developing, and hosting a statewide Victim Assistance Academy to provide base-line training to those new to the field of victim assistance;
Public education to foster a better understanding of victimization;
Offering a voluntary Victim Advocate Certification Program for Colorado victim advocates;
Administering a Crime Victim Emergency Fund;
Developing a Crisis Response Team available to assist communities statewide;
COVA Staff Contact Information: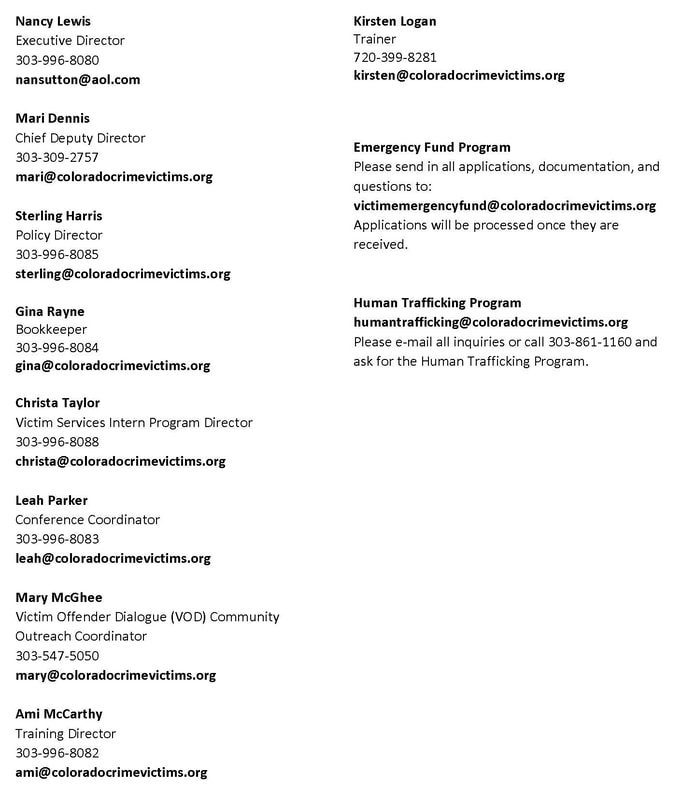 COVA's Board of Directors:
Executive Committee:    
Mark Slavsky, President
Wheat Ridge Police Department
Wheat Ridge, CO

Angela Dunson, Past President
Denver City Attorney's Office
Denver, CO

Cecil O'Farrell, Past – Past President
Boulder Police Department
Boulder, CO

Michael Goodbee, Co-Vice President                                
City of Golden Municipal Court
Westminster, CO

Janet Drake, Co-Vice President
Colorado Attorney General's Office
Denver, CO

Tom Waddill, Co-Treasurer
Community Member
Lakewood, CO

Irene Blatnick, Co-Treasurer  
2nd J.D. District Attorney's Office 
Denver, CO

Allison Boyd, Co-Public Policy
1st J.D. District Attorney's Office
Golden, CO

Michael Dougherty, Co-Public Policy
20th J.D. District Attorney's Office
Boulder, CO

Board Members:

Britta Davis (Northeast Regional Rep)
Fort Collins Police Department
Fort Collins, CO

Deena Ezzell (Northwest Regional Rep)
Eagle County Sheriff's Department
Eagle, CO

Florence Hunt
10th J.D. District Attorney's Office 
Pueblo, CO  

Jocelyn Rhymer (Central Regional Rep)
Mothers Against Drunk Driving (MADD)
Denver, CO

Steve Siegel
Community Member
Denver, CO

Maureen Testa (Central Region Rep)
Community Member
Parker, CO

Debbie Vigue
Community Member
Lamar, CO

Marsha Willis
Americas Development Group  
Denver, CO    
Add: 1325 S. Colorado Blvd., Suite 508-B, Denver, CO 80222
Email: info@coloradocrimevictims.org
Monday – Friday: 8am to 5pm MST*
Saturday & Sunday: Closed
Closed for All Federal Holidays. 
*Call Ahead, Not Available for Walk In's