COVA is a 501(c)(3) nonprofit (Tax #: 84-0972509) that strives to provide statewide services while meeting the ever-changing needs of the victim services field.
COVA receives support from government grants, events, fundraisers, sponsorships, and individual donations.
By donating, you assist COVA in meeting our mission and advancing into the future.
Other Ways to give
"ColoradoGives.org is a safe and trusted way to support nonprofits, and each organization's online profile is screened by Community First Foundation to ensure specific standards of transparency. " Click Here to Donate. 
COVA Remembrance Tree​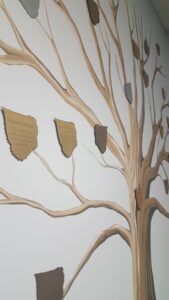 Honor your loved one by adding a memorial leaf onto COVA's Remembrance Tree, located in our office.
Step 1.  Select your giving level:
        GOLD LEAF: $500
        SILVER LEAF: $250
        BRONZE LEAF: $100
Step 2.  Fill out the COVA Remembrance Tree Donation Form.
Step 3.  Submit the completed form with payment by
e-mail to : leah@coloradocrimevictims.org
Or mail the form to: COVA, Attn: Leah Parker, 1325 S. Colorado Blvd, Suite 508 B, Denver, CO 80222.
Other Gift Giving Ideas:
Give on Your Birthday: Instead of asking friends and family for presents, ask them to donate to COVA on your behalf. It is truly a gift that keeps on giving!
Give on Special Occasions: Whether it is a holiday or a wedding ceremony, by telling those you're sharing this time with them in lieu of gifts, a donation to an organization that you believe in will inspire and fulfill.
Corporate Matching: Give twice as much by seeing if your corporation/organization will match donations made to COVA. Many companies do yearly donations tononprofits!
Social Justice: Support a cause that you believe in and increase awareness.
Donate by mail​
Mail your donation directly to COVA. Made your check out to COVA and mail it to:
Colorado Organization for Victim Assistance
1325 S. Colorado Blvd., Suite 508B
Denver, CO 80222